Learn more
Samaritan is a support platform
that empowers people without a home
to move forward
individuals gain the social and financial support needed to rebuild hope and reach housing goals
But it all starts with you.
Provide social and financial capital
to witness life-changing outcomes
in your community.
Engaging people in need…
When a person becomes a member of Samaritan, they work with a care provider to set top-level goals, plus related action steps and needs for those goals. From there, members can access funds from good samaritans looking to support
their journey.
Engaging people in need…
Members also earn $10-$20 bonuses by completing positive action steps towards their goals, such as successfully making it to a treatment, or building a resume. Money for this comes from an Action Fund we help you put together.
Engaging people in need…
Money is redeemed with the care provider to address critical needs, such as food, bills, prescriptions, move-in fees, transportation, and more.
Everyone needs
a team…
Each individual is backed by their team of volunteer and professional samaritans. Each team works to meet needs, match bonuses, and message encouragement or opportunities through the Samaritan app.
So they can
move forward.
Strengthened relationships with care providers, coupled with relational and financial investment from the community, have helped individuals reach life-changing outcomes, like a stable home.
Become a Samaritan
How it
works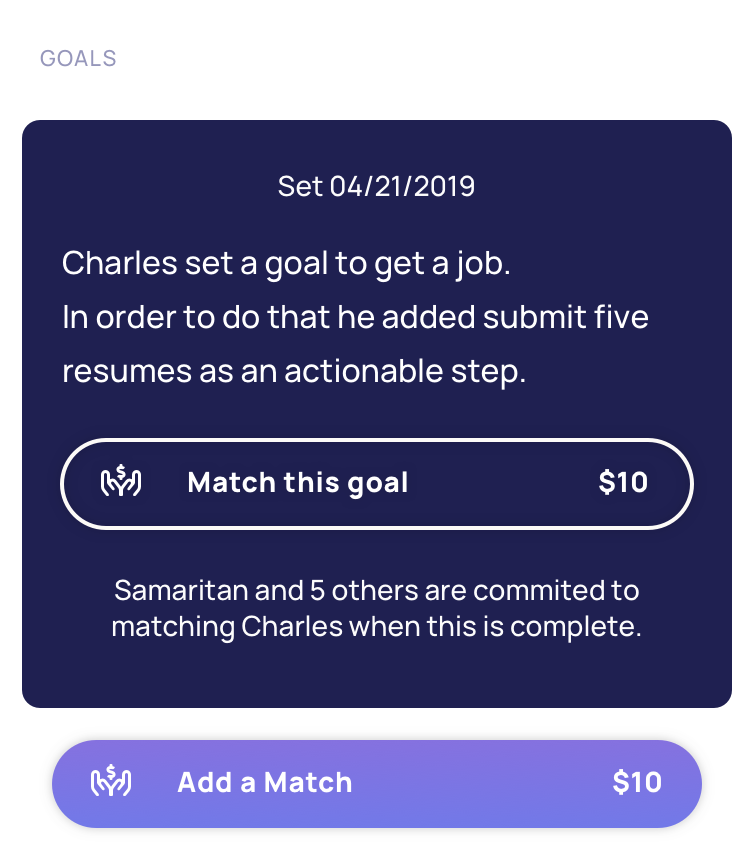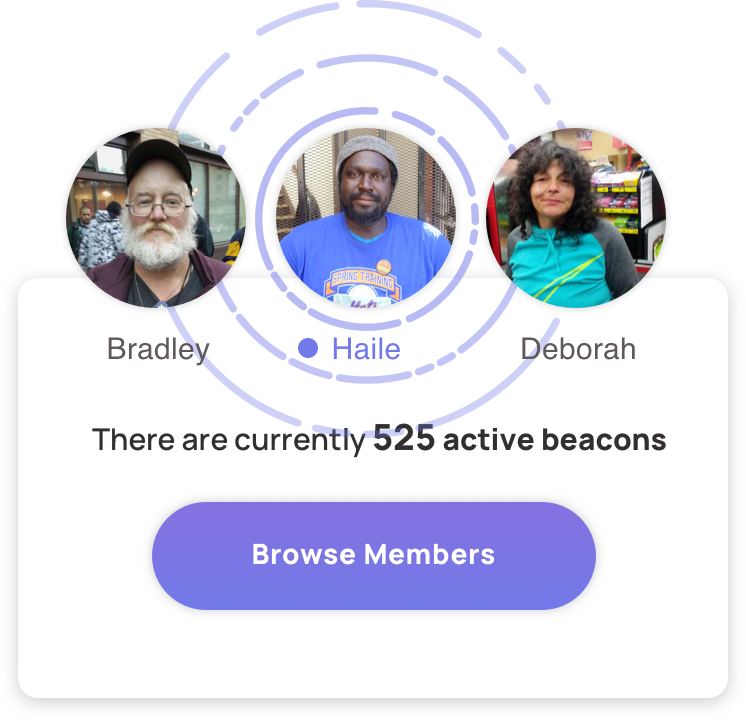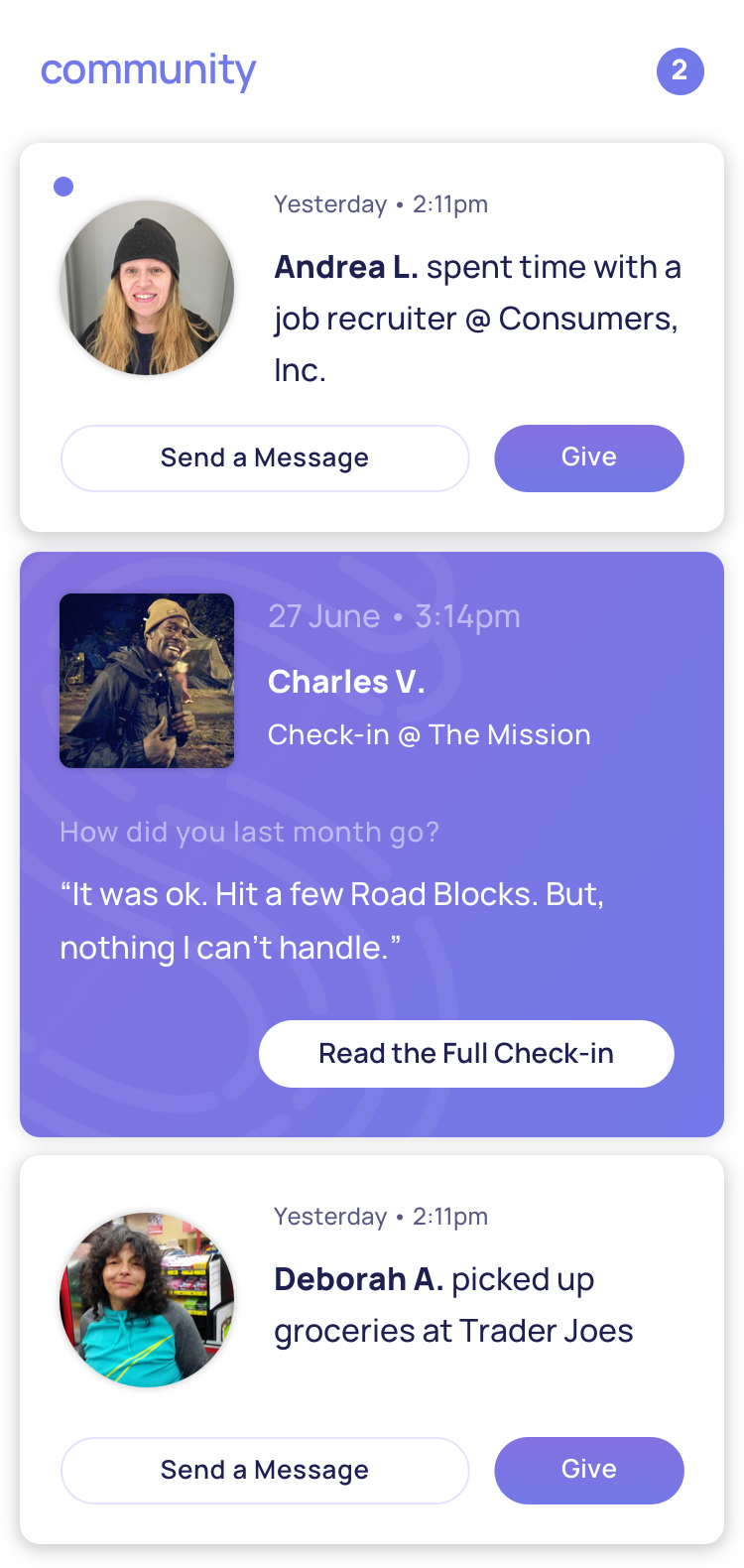 These are our neighbors
During this unprecented time, it's never been more important to help them find a safe, stable, supportive place to sleep at night.
We find that when we wrap a social home around someone, they gain the capacity to often find the physical home soon after.
You are invited to join one or many who seek to find a home this year.
walk with, not by.
Solutions for… …

A person
in need

Have a team of supporters help you move forward and provide money to meet your needs.

Learn More
Managed
care

Engage your most vulnerable members with community support to reach housing and health goals.

Learn More
Community
hospitals

Help high-utilizers overcome upstream factors that lead to them needing emergency care.

Learn More
Human
services

Help people enter permanent housing faster, allowing teams to serve more individuals.

Learn More
Corporate &
faith groups

Empower communities to help people access the social and financial capital to find a home.

Learn More
Volunteers

Directly invest into your neighbors in need alongside other volunteers and professionals.

Learn More
Merchants

Offer a flexible way for vulnerable community members to pay for critical goods & services.

Learn More
Let's talk about deploying this
resource in your community
Contact Us
Jamie Winship Samaritan App User
This is for my transformation, not theirs. And then along the way, I can help.
Jeff Lilley former CEO of Seattle's Union Gospel Mission
The number one question I'm asked is, 'Jeff, how do I respond when asked for help on the street?' Samaritan is an answer to that question.
You're bringing the human side back into my life, and I'm grateful to be a part of it.
Richard Now-Housed Beacon Holder
The beacon is really a healthy way of telling your story. [A donation] truly always came when I needed it.